WHAT IS THE NEW WORK EVOLUTION?
Interaction & Networking
Workshops
Networking - Events
(Fun) Areas
...
Exhibit
Exhibition stands
Creative space
Co-Working
...
Learning
Lectures
Panels
Live-Podcasts
...
FOCUS AREAS
This year, we are proud to introduce you to our four focus topics, which will bring the future of the working world into focus and set groundbreaking impulses:
People & Culture:
Discover strategies and best practices to create an open culture that promotes diversity and inclusion and increases team engagement and satisfaction. In an ever-changing workplace, people are at the center of everything. "People & Culture" is about focusing on employees and promoting their individual needs and potential. It is about personnel development, employer branding, (mental) health and much more.
Technology:
Tools & trends that are revolutionizing the way we work. Discover the possibilities of artificial intelligence, automation, digitization and virtual workplaces. Learn how you can use technology to optimize processes, increase efficiency and develop innovative work models.
Offices:
The office landscape has changed - we are now talking about the office of the future. Whether it's hybrid workplaces, coworking spaces or completely digital work environments - we'll show you innovative concepts that make the working environment more attractive, productive and flexible. Learn how you can adapt your office infrastructure to the demands of a modern workforce while conserving resources.
Diversity, Equity & Inclusion:
Diversity, equal opportunities and inclusion are fundamental values of a modern working world. DE&I aims to promote a diverse and inclusive corporate culture. Learn how you can create an environment where every individual can realize their potential regardless of gender, origin, age or background. Discover how diversity leads to better decisions, more innovation and stronger identification with the company.
YOUR TRADE FAIR & WORLD OF EXPERIENCE FOR ALL FACETS OF MODERN WORK
Our venue, Messe Karlsruhe, provides the ideal setting for a completely new and innovative trade fair format.
our trade fair for digital education, LEARNTEC, will take place for the 31st year on 37,500 m². Since you can participate in both fairs with your ticket and the products and services in all four halls complement each other perfectly, you will take away a maximum of ideas.
NEW WORK EVOLUTION is a must-attend event for companies, organizations and individuals who want a glimpse into the future of work. This is where ideas are born, innovations are celebrated and the working world of tomorrow is shaped.
Be a part of this inspiring and groundbreaking fair and actively shape the fascinating world of modern work!
WHY YOU HAVE TO BE THERE
Because together with you we will create the coolest and biggest New Work fair in the DACH - region and develop the working world of tomorrow. We invite you to be part of this groundbreaking event, which will focus on the latest trends and innovations.
Book an individual creative space and design it yourself (from 229€/m²*)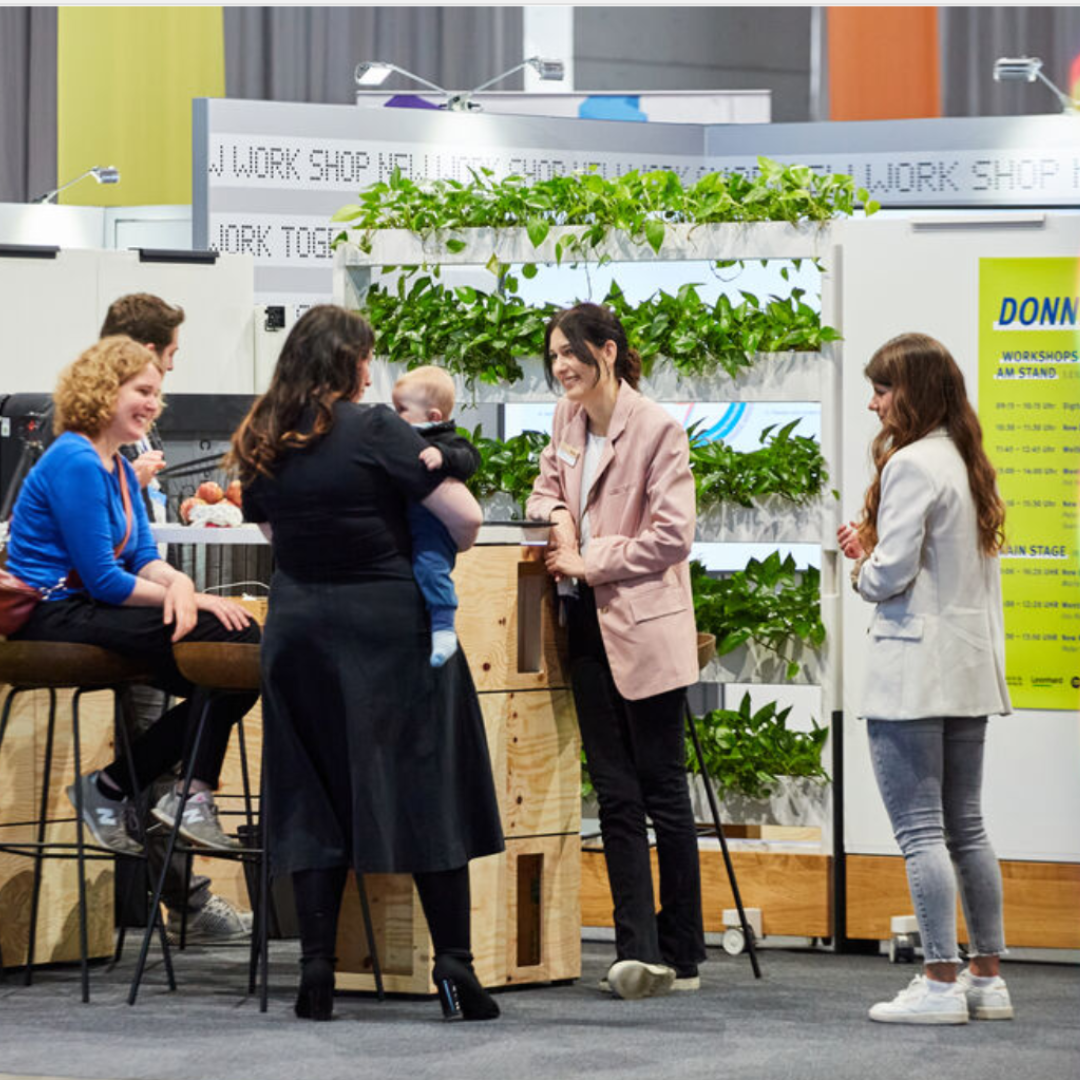 *regarding:
basic internet 399€ (10Mbit LAN) o.A.
Advertising in the marketing directory/website/social : 365€ one-time fee
AUMA fee: 0,60€/m²
general hall additional costs: 8,50€/m²
carpet (you can also bring your own)
*optional:
we help you with stand construction
stand cleaning (you can also bring your own)
fancy plants
and much more
"NO STRESS PACKAGE"
Here we take care of everything.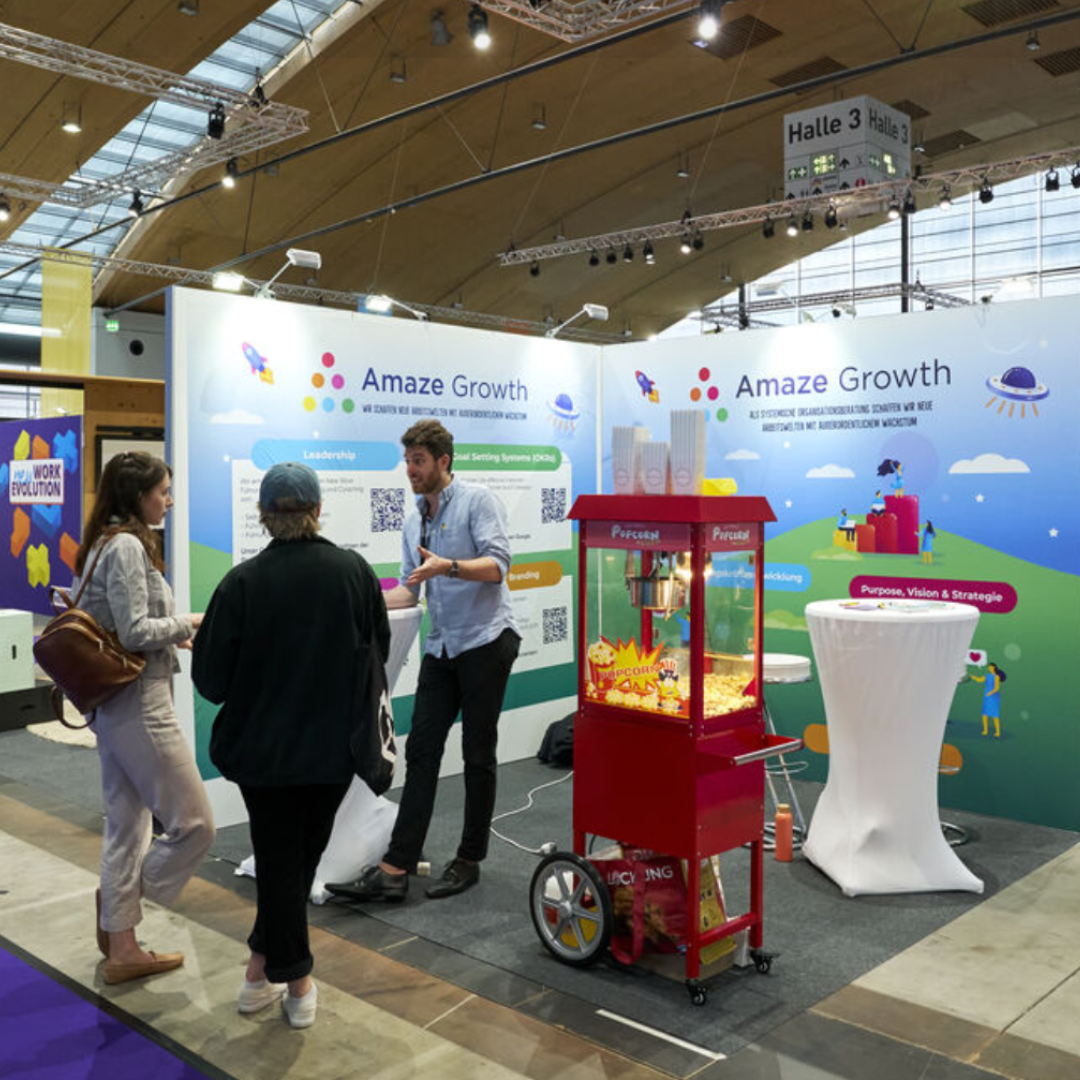 *Included in the price:
Booth construction with back/side walls
lighting & electrical (varies by booth size)
carpeting
booth cleaning
AUMA fee: 0,60€/m²
general hall ancillary costs: 8,50€/m² (electricity, garbage...)
advertising in marketing directory/website/social: 365€ one-time fee
basic internet service: 399€ (10Mbit LAN) - optional
Services of the "no stress package"
| Packages | XS | S | M | L | XL | XXL |
| --- | --- | --- | --- | --- | --- | --- |
| Floor area | 9 sqm | 12 sqm | 15 sqm | 20 sqm | 40 sqm | 80 sqm |
| Speakerslot 20 minutes (free of charge) | | | | | X | X |
| Speakerslot 20 minutes (fee required, 990€) | X | X | X | X | | |
| Entry in the exhibitor directory with logo, company profile, contact and linking | X | X | X | X | X | X |
| Package "Gold" in the accompanying trade fair app talque (better visuality through more products and additional features in the exhibitor list) | | | | | X | X |
| Free tickets for clients (unlimited number) | X | X | X | X | X | X |
| Free advertising material (e.g. email banner) | X | X | X | X | X | X |
| Booth included in stand construction | | | X | X | X | X |
| Prices | 4.500€ | 5.900€ | 6.900€ | 9.990€ | 16.900€ | 31.900€ |
SUSTAINABILITY GOALS - INTEREST OF THE NWE
Of course, we also have the 17 goals firmly in mind at all times and will focus in depth on the following three goals at the NEW WORK EVOLUTION. gender equality:
The #nwe is committed to gender equality in the workplace. We believe that all people, regardless of gender, deserve equal opportunities and opportunities. Through targeted events and workshops, we want to create awareness, break down barriers and present innovative solutions that advance gender equality in companies and organizations. Because we are convinced: An equal working environment promotes creativity, innovation and economic growth.
Decent work and economic growth:
At the NWE, creating a working environment based on human dignity is particularly important to us. We are committed to fair working conditions, appropriate wages and social security. People should be able to develop their talents and at the same time find enough time to relax. By presenting sustainable business models and socially responsible companies, we want to raise awareness of the importance of decent work and make a contribution to sustainable economic growth.
Partnerships to achieve the goals:
The challenges we face require joint action. We actively promote partnerships and collaboration between business, government, NGOs and civil society. Only through broad and diverse cooperation can we achieve the UN Sustainable Development Goals. We offer a platform on which actors from different sectors can exchange their ideas and solutions in order to create a sustainable working environment together.
The NEW WORK EVOLUTION is not only a trade fair and world of experience for modern work, but also a meeting place for sustainability and social commitment. By promoting gender equality, decent work and economic growth and partnerships, we actively contribute to creating a better and more sustainable world of work for all.
Be part of this movement and let us shape the future together!
DO YOU HAVE QUESTIONS OR WOULD YOU LIKE TO BE THERE?